High measurement quality
leva! supports temperature sensors, pressure sensors, flow meters and Bluetooth LE scales to measure and control temperature, pressure, volume, flow rate and weight.
leva! supports digital factory-calibrated TSic precision temperature sensors. Accuracy exceeds Pt100 Class B.
Ultimate temperature control with PID algorithm
Dual channel PID function for up to two heating elements, for example two boilers or one boiler and one electronically heated grouphead
Temperature setpoints can be changed in steps of 0.1°C
Different PID configurations can be used during different states of the machine (warming up, idle phase, shots)
Two temperature sensors may be connected simultaneously, for example a boiler sensor and a grouphead sensor
Virtual temperature sensors: Two sensors can be combined into a virtual sensor, for example to take the temperature of the grouphead into account.
Ramp & Soak feature for programmed heat output during shots to optimize the 25s brew temperature curve
Feed-forward temperature control based on flow meter measurements
Automatic determination of PID configuration by auto-tuning program
Advanced PID configuration options such as digital filtering and integral wind-up limiting
Configurable Standby Mode and ECO Mode to conserve energy
Electronic pump power control
Electronic pump power control for vibration pumps with pressure sensor feedback control loop, with nearly stepless power control. This feature gives you high-quality pressure profiling, for example gradually falling brew pressure (= lever-style pressure profile; the extraction process softens towards the end).

Example video

Paddle support. Use an electronic lever or the rotary encoder of the display to control brew pressure manually, on the fly, at any moment in the shot
Real preinfusion: Variable, programmable preinfusion with desired pressure curve
Flow rate control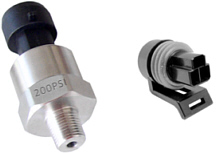 Pressure profiling control loop with pressure sensor
Apps for Android, Windows, Linux and Mac OS X
leva! continuously transmits measurements to a PC or Android device connected by WLAN, where they can be viewed as real-time plots in apps. Visual and numeric presentation of live data permits unprecedented insight.
The apps let you use your mobile devices and computers as Virtual Display if you install the hardware without a physical display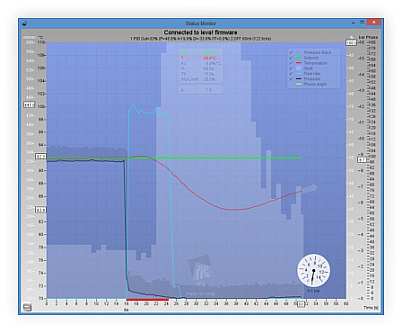 Real-time plots of live data on your computers (Windows, Linux or MacOS X) and Android devices
Dosing, Descaling and Flushing
Dosing feature for dispensing programmed amounts of product with the desired flow rate or pressure profile. leva! supports dosing by time, by water volume (flow meter) or by weight (gravimetric dosing with Bluetooth scale). Supports Felicita Arc, Skale 2 and Eureka Precisa scales.¹
Brew ratio calculator
Automatic cup detection: Assign doses and/or pressure profiles to cups identified by weight
leva!'s warm-up program can drastically reduce warm-up time by flushing hot water through the machine
Customizable descaling program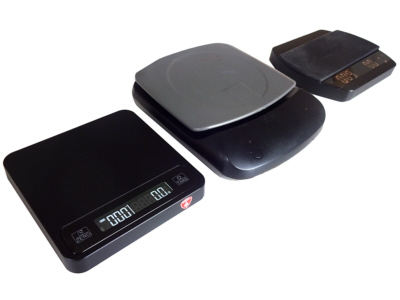 Gravimetric dosing with wireless Bluetooth scales. Left to right:
Eureka Precisa¹ (Krell CFS-9002), Skale 2, Felicita Arc
Dual boiler support
Support for steam boiler on/off switch
Information at your fingertips
Four lines of output on an OLED display convey useful information: Temperatures, setpoints, heat output, pressure (bar), shot volume (ml), shot weight (g) etc.
Comfortable text menus instead of cryptic numbers. By comparison, most PID controllers only have 7-segment numerical displays.
OLED brightness controlled by firmware
PID controllers switch power rapidly, which normally leads to a flickering boiler lamp. With leva!, you will not have to endure a flickering lamp because it offers a lamp replacement in form of a firmware-controlled, white, dimmable LED to convey useful state information.
Automatic dimmable grouphead illumination
Monitoring and safety features
Monitoring of water filter's liter throughput
Water hardness calculator and limescale buildup monitoring
Backflushing reminder
Safety functions monitor the on-times of heating elements, pump and valve and turn off the machine or sound an alarm if a problem is detected.
Invisible
Support for internal installations without display. Wireless configuration by computers/Android devices .
Instead of a full display module, a hidden rotary encoder can be installed as temperature selector.
Training functions
Acoustic and optical (display) shot timer to make by-the-rules espresso with perfect 25s timing
Ready-beep signals when the machine is thoroughly heated up
1: Note that a non-Bluetooth version of the Eureka Precisa exists; be carfeful when buying.